Have you been itching to get your hands on the latest Nintendo titles? Well, your wait might come to a sooner end than you previously predicted; the Unleashed tour returns to the MCM Game Expo at London's Comic Con on May 25th through the 27th. At the expo, you can expect to see and get an early run-through of games such as Kingdom Hearts 3D: Dream Drop Distance, as well as Beat the Beat: Rhythm Paradise, a game coming out exclusively for the Wii system.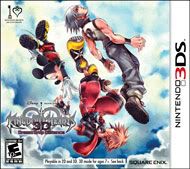 Other games you can stay on the look out for include Mario Tennis Open, which is the newest multiplayer tennis game for the Mario franchise, Heroes of Ruin, which is an adventure RPG game for the Nintendo 3DS, and much more.
Nintendo is also hosting a swap shop and battle table for the Kid Icarus: Uprising AR cards, which will even be available as prizes at the Expo. Make sure you've been saving up your cards, as it's sure to be a fun event as well.